Wyoming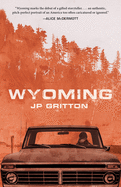 JP Gritton's first novel, the dark and gritty Wyoming, explores themes of family, love and every kind of trouble. Luckless narrator Shelley Cooper opens his story: "I'll tell you what happened and you can go ahead and decide."
Shelley's lost his construction job. His best friend Mike's kid is really sick. Shelley's wife left him some time back for the next-door neighbor and took their son with her when they moved away. Shelley has longings that he understands to be inappropriate. He hates his brother Clay with deep, visceral force, yet he must accept Clay's offer to drive 50 pounds of marijuana down to Houston from where they live near Denver. The pay is measly--insulting, even, he decides as he drives--but Shelley needs the money, and Mike needs his help.
In Houston, the exchange of drugs for money goes okay, but the rest goes south. Shelley can't help but veer toward trouble even when he sees it for what it is. A few acts of self-sabotage later, he's on a bus headed for Kansas City for an impromptu visit with his ex, her new husband and the son he doesn't really know.
Shelley's voice is a vernacular readers can almost hear spoken aloud. The title is a glancing reference point, since little of the novel's action takes place in Wyoming, but it gestures toward the road map of Shelley's undoing, which easily spans half a dozen states. It also points to the hopes, dreams and hazards on offer on the next stretch of road. Wyoming is a novel both sensitive and brutal, and impossible to turn away from. --Julia Kastner, librarian and blogger at pagesofjulia