Wild Honey from the Moon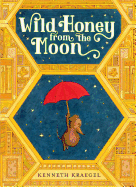 In the whimsical Wild Honey from the Moon, a mother shrew makes an epic journey to save her son from a mysterious illness.
Many claim that they would go to the moon and back for a loved one. But it takes a worried mother actually to make that trip. Upon learning from her copy of Dr. Ponteluma's Book of Medical Inquiry and Physiological Know-How that the cure for son Hugo's midwinter ailment is one teaspoon of wild honey from the moon, Mother Shrew is undaunted. "My dear darling," she tells her sleepy, cold-headed, hot-footed son. "I have to step out just now."
In seven short, delightful chapters, Kenneth Kraegel (King Arthur's Very Great Grandson; Green Pants; The Song of Delphine) takes enraptured readers on an adventure they are likely to want to experience again and again. Kraegel uses a muted palette, his two-page spreads awash with intricate watercolor and ink illustrations, scratchy lines capturing the textures of animals, trees and grass. Tucked snugly into a tree, surrounded by a village of rope-ladder-connected treehouses, the Shrew home is sweetly detailed with scalloped shingles, lofted beds, books, bowls and baskets. By contrast, the moon's landscape is vast and changeable, with unexpected (and fantastical) details like a flower- and butterfly-filled valley and an island fortress of belligerent honeybees.
Wild Honey from the Moon is a mother's love story... and a child's adventure to linger over happily. Put this one on the shelf next to Sam McBratney and Anita Jeram's Guess How Much I Love You and Elsa Holmelund Minarik and Maurice Sendak's Little Bear. --Emilie Coulter, freelance writer and editor