The Worst Kind of Want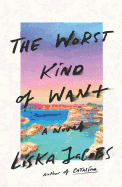 The Worst Kind of Want by Liska Jacobs (Catalina) is an atmospheric exploration of female middle age, in steamy modern Rome.
Cilla is only 43--too young to feel this way or be mistaken for her mother's sister at the nursing home. Having just taken care of her father to his end, she feels stifled by her ailing mother's needs and neediness. When her brother-in-law Paul asks for her help with her teenaged niece Hannah, she jumps at the chance to get away from one caregiving situation and into another. Paul and Hannah live in Italy, where Cilla imagines good food, good wine and romance--not that she expects any romance to befall her personally. But what Italy offers turns out to be very different. Hannah reminds Cilla painfully of an earlier teenager, Cilla's sister and Hannah's mother, a gorgeous and tragic figure. And anyway, Cilla is disinclined to serve as chaperone; she instead drinks and parties with her niece's friends, including one boy in particular who makes her yearn for something more than what her own adulthood has offered.
The sultry city of Rome is evocatively described in this novel filled with the challenges of womanhood from adolescence to menopause, and about the ends of lives. The loss of Cilla's sister and father, her mother's illness and the ancient ruins of Rome all whisper of death, and suggest the novel's conclusion. Erotic and moody, The Worst Kind of Want draws readers with momentum toward its heartbreaking end. --Julia Kastner, librarian and blogger at pagesofjulia