The Starless Sea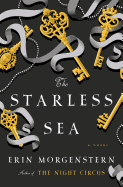 In her first novel in eight years, Erin Morgenstern (The Night Circus) weaves a sprawling, ambitious spell of a story in which a young man becomes caught up in a centuries-old secret world of hidden archives, thwarted love and forces beyond human comprehension.
When grad student Zachary Ezra Rawlins takes out an uncatalogued book, Sweet Sorrows, from the university library, he reads about lovelorn pirates, the star-crossed romance of Time and Fate, and the rites of ancient orders dedicated to guarding a vast underground library on the shores of a mysterious sea. He also finds a short chapter about his own childhood, detailing a time when he unwittingly walked away from a chance to enter this secret world, and it perplexes and scares him.
Determined to understand how a book written before his birth could chronicle his life, Zachary goes on a quest to track down its origins. His search leads him to a costumed ball where he meets elegant, pink-haired Mirabel and compelling, roguish Dorian. He's swept into a world where a door painted onto a wall can open, the Moon can take human form, and owls serve a shadowy monarch. Zachary searches for a way to protect a Harbor on the Starless Sea, a labyrinthine story repository filled with puzzles, secret rooms and the best room service in any world.
While the plot of The Starless Sea takes its time coming together, the journey is nothing short of magical, like a fantastical, delirious dream that makes awakening back to reality a disappointment. Set aside a few quiet hours to devour this opulent feast. --Jaclyn Fulwood, blogger at Infinite Reads