Someone to Remember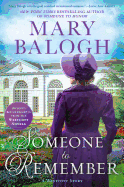 Mary Balogh (Someone to Honor, Slightly Married), the author of more than 60 historical romance novels, knows how to set a romantic scene. When Someone to Remember begins, 56-year-old Matilda Westcott becomes flustered when she hears the name of Charles Sawyer, Viscount Dirkson--her onetime love.
Thirty-six years earlier, Matilda and Charles had asked for permission to marry, but given Charles's wild and rakish reputation, Matilda's father, the Earl of Riverdale, refused. Matilda obediently broke things off with Charles. She's spent her life tending to the needs of her irascible mother, now the Dowager Countess of Riverdale, and wistfully watching Charles's marriage, fatherhood and many liaisons from afar.
But fate conspires to throw them together, when Matilda's niece marries the illegitimate son that Charles had never known. After discovering the truth, however, Charles is determined to make things right. He tries to build a relationship with his son and to reestablish a connection with Matilda, for whom his feelings have never completely gone away.
Someone to Remember is a charming novel, slowly paced and sweet, perfectly reflecting the gentle middle-aged woman at its center. Aptly capturing the bittersweet nature of rediscovering romance after so many years apart, Balogh creates engaging and believably nuanced characters in Matilda and Charles. The seventh entry in the Westcott series, Someone to Remember is sure to appeal to Balogh's many fans, or to anyone who likes romances about women beyond the typically youthful heroines. --Jessica Howard, bookseller at Bookmans, Tucson, Ariz.