Ian McKellen: A Biography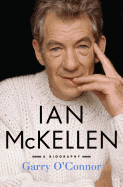 In 2014, Sir Ian McKellen was paid £1.2 million to write his memoirs. Nine months later, he returned the advance, saying, "I don't want to go on a voyage of discovery." Fortunately, acclaimed biographer Garry O'Connor signed on for that voyage and has produced the definitive biography of the award-winning actor and tireless international gay activist.
O'Connor, who befriended McKellen in 1958 at Cambridge, offers an intimate, critical and comprehensive biography that incisively evaluates his extensive stage and screen career. He also delves into McKellen's private life, sharing his struggles, triumphs, sacrifices and foibles to create a fully drawn portrait of an actor who found his greatest rewards after he publicly came out as gay at the age of 49. O'Connor notes McKellen's 1988 coming out: "He was awake now with a rich vivid self-awareness, an almost romantic religiousness not apparent before, and a burning social purpose that went beyond a need for personal love, a stable giving relationship, the need for a family."
The strong film career that had eluded him finally arrived when he was approaching 60. In 1998, he starred in Stephen King's Apt Pupil, and earned a Best Actor Oscar nomination for Gods and Monsters. The following year, he was cast as super-villain Magneto in X-Men and heroic Gandalf in The Lord of the Rings. Suddenly, he was headlining two mega-blockbuster film franchises.
O'Connor (who has written biographies of Laurence Olivier, Alec Guinness and William Shakespeare) offers an entertaining, insightful, opinionated and unauthorized biography of a remarkable actor and activist. --Kevin Howell, independent reviewer and marketing consultant