Drunk in China: Baijiu and the World's Oldest Drinking Culture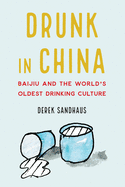 After his first sip of baijiu, Derek Sandhaus is ready to "consult a war crimes tribunal." But the bitter and fiery drink is enmeshed in Chinese social life and Sandhaus knows he can't exist in China without learning how to stomach its grain-based liquor.
It's an acquired taste; Sandhaus is told he must drink 300 glasses before he'll enjoy the experience. Reaching that point after a mere 70 glasses, he begins to explore the culture and history of baijiu. Nine thousand years ago, Neolithic Chinese created "the world's oldest alcoholic beverage." With the Qin empire came grain alcohol, which was taxed to become a primary source of government revenue. Alcohol production and consumption spread across China.
Later, influenced by Mongolia's fermented mare's milk, distilled alcohol hit China, and baijiu, cheap and strong, took over the entire country. Until recently baijiu figured heavily in corruption scandals. "The Chinese government's annual liquor tab was at 600 billion yuan ($94.5 billion)" in 2011, Sandhaus writes, "roughly three times that year's stated national defense budget." On a lower level, bribes were sweetened with bottles of baijiu that cost up to $200. When president Xi Jinping's anti-corruption campaign began, baijiu sales plummeted.
With the onset of globalization, young Chinese drinkers have discovered foreign liquors, so baijiu manufacturers are targeting elegant cocktail bars worldwide in attempts to bolster their profits. Recipes for baijiu cocktails are sprinkled throughout Drunk in China, and Sandhaus is helping to launch a new brand in the West. After all, sake and mezcal have become household words. Why not baijiu? --Janet Brown, author and former bookseller