Trick Mirror: Reflections on Self-Delusion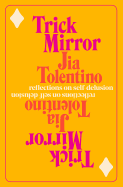 In the nine essays of her highly anticipated debut, Trick Mirror, columnist for the New Yorker Jia Tolentino thoughtfully deconstructs the ethos and mythos of millennial culture, locating within it several key defining themes: infinite scams (Fyre Festival, Theranos), paralyzing economic insecurity (the student debt crisis, the Great Recession) and the unabashed monetization of the personal profile (influencer culture).
Trick Mirror's first essay, "The I in Internet," grounds the scope of Tolentino's exploration in incredibly stark terms. She argues that the Internet, the key force in millennial identity creation, is entirely oriented toward performance, decontextualization and opposition. A millennial Sontag, Tolentino exhibits profound cultural fluency on a wide range of topics: her essays move seamlessly and cannily between barre class, Harriet the Spy, mega-churches and drug use--topics otherwise disparate, but cleverly bridged through her analysis. Tolentino documents the extreme precariousness of the advanced capitalist landscape with wry humor and candid self-reflection about her participation in the systems she critiques.
A brilliant and hilarious book, Trick Mirror brings some much-needed nuance to contemporary cultural discourse. --Emma Levy, publishing assistant, Shelf Awareness