The Collected Schizophrenias: Essays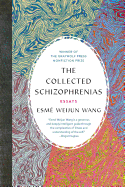 Esmé Weijun Wang (The Border of Paradise) was diagnosed with bipolar-type schizoaffective disorder in 2013. This diagnosis, which replaced her longtime diagnosis of bipolar disorder, explained the periodic symptoms of psychosis, such as hallucinations and delusions, that she first began experiencing years before as a student at Yale. Wang found some comfort in her diagnosis (it provided "a framework--a community, a lineage"). She also understood--from her own experience and from her years working as a lab researcher at Stanford--that its diagnostic criteria are inadequate in capturing the complexity, contradictions and the lived experience of schizoaffective disorder or another of "the schizophrenias."
The Collected Schizophrenias is Wang's attempt to do what the DSM-5--the "clinical bible" of mental disorders--cannot. In 13 remarkably well-researched, intimately detailed and moving essays, she guides readers on a tour of her own psychological and emotional terrain, grounded in the clinical and cultural context that has shaped it. The essays range from the investigative to the meditative to the confessional--most of them all three at once. Wang's search for unity may be elusive, but her collection organizes the confusion, terror and complexity of her experience into an imperfectly cohesive, profoundly illuminating whole. --Hannah Calkins, a writer and editor in Washington, D.C.