Maybe You Should Talk to Someone: A Therapist, Her Therapist, and Our Lives Revealed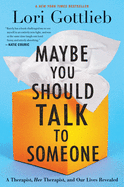 Psychotherapist and author of the Atlantic's "Dear Therapist" column, Lori Gottlieb (Marry Him: The Case for Settling for Mr. Good Enough) has spent time both in the therapist's seat and on the couch. In this raw, thoughtful memoir of crisis and healing, she illuminates the therapist-client relationship.
When Gottlieb's boyfriend breaks off their relationship, citing an aversion to helping raise her son, she's completely taken by surprise. She chooses Wendell Bronson as her therapist, in part because he has children and therefore seems more likely to share her opinion that her now-ex is, in fact, a sociopath. Instead, Gottlieb's sessions with Bronson take her on a trek through the fears and worries she hasn't expressed, even to herself.
At the same time, Gottlieb counsels three clients who make lasting impressions: Julie, a young newlywed whose death is approaching quickly due to a rare cancer; John--who calls Gottlieb his hooker because he pays her in cash to hide her existence from his wife, and conceals a tragedy under his snarky façade; and Rita, a divorced senior citizen contemplating suicide.
Wry and compassionate, Gottlieb offers an intimate perspective on client-therapist interaction and insight into the therapist's point of view. --Jaclyn Fulwood, blogger at Infinite Reads