God Land: A Story of Faith, Loss, and Renewal in Middle America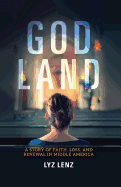 Journalist Lyz Lenz watched both her church and her marriage fall apart in the wake of the 2016 election.
In God Land, her first memoir, Lenz incisively weaves her own story with the stories of people she meets in towns and churches across the American heartland. She tells of her idealism in helping to establish a new church in Marion, Iowa, then her frustration at being silenced by her friends and her husband, as a woman who often held unpopular opinions. She explores the contradictory nature of belief in a stubborn, harsh, often isolating land. Lenz trains her keen journalistic eye on everyone she meets: the traveling pastors who often disagree with their congregants but feel called to serve them; the farmer who diffidently admits to finding God in his fields; the elderly woman who has lived and worshiped in the same small town for decades. They emerge as complex people, full of faith and doubt, hurt and hope--not unlike Lenz herself.
Her sharp, insightful prose and deep compassion help illuminate many facets of a complicated region and its ties to Christianity. --Katie Noah Gibson, blogger at Cakes, Tea and Dreams