Fleishman Is in Trouble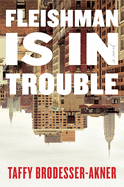 Longlisted for the National Book Award, this hilarious debut novel hinging on a dissolving Manhattan marriage belongs on a shelf with books by Bellow, Roth and Updike. Wildly successful Manhattan talent scout Rachel Fleishman has a history of not coming home on time. But when she doesn't come back from a yoga retreat and won't return her husband Toby's calls, he gets mad. Not only must Toby juggle his work obligations with taking care of their two kids, he has to convince them that their mother's extended absence is job-related.
Rachel and Toby, a doctor who keeps bankers' hours, have been separated for about a month, which was his idea. Until now, the separation has been working well for Toby, both sexually (he's a hit on dating apps) and in terms of pride (he felt that Rachel looked down on him for his relatively modest salary). Just when the reader is squarely on Team Toby comes the howlingly funny third act, which works a certain miracle: it makes Rachel sympathetic.
Fleishman Is in Trouble
overlays Taffy Brodesser-Akner's wickedly well-observed consideration of modern coupledom with a feminist sensibility. --
Nell Beram
, author and freelance writer