Daisy Jones & The Six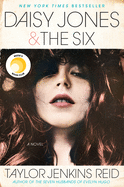 Taylor Jenkins Reid's Daisy Jones & The Six opens by noting this is the only official account of the titular band's history and dramatic breakup mid-tour in 1979, an event that has remained a mystery for 40 years. What follows is so realistic and rich in details, readers might forget the band is fictional.
In the early 1970s, Daisy is a wild child and naturally gifted singer who begrudgingly agrees to work with Billy Dunne, frontman of a rock band called The Six. Billy has written a song his producer says should be a duet with a female vocalist. The result is combustible chemistry and a hit that begs for more collaboration between the two. When Daisy is invited to join the band, she's a grenade thrown into the mix, and sparks fly, both good and bad.
Daisy Jones & The Six is an oral history about more than sex, drugs and rock 'n' roll, though there's plenty of that. This novel cracks open the creative process and shows how much it costs sometimes to make art that resonates. --Elyse Dinh-McCrillis, blogger at Pop Culture Nerd