The Usual Uncertainties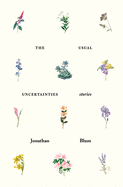 Reading Jonathan Blum's rhythmic short story collection, The Usual Uncertainties, is a bit like being asked to stare into a row of windows across the street. The strangers inside can't be reached, nor understood, but they can be seen. Readers are invited to watch, perhaps even voyeuristically, the private, intimate, whimsical, bizarre and at times crushingly sad ways humans attempt to love one another--and often fail to do so. The characters in Blum's work try to see one another, too, despite their typically deep divisions (and doubts). Sometimes the characters succeed in connecting with one another. Often they do not.
In the first few pages, a doctor makes rounds at the hospital with his son, who gradually learns how to identify cancer--and understand the power of memory--as he meets his father's patients. Next, a stepson begins a sexual relationship with his stepsister as their parents' marriage falls apart. A Jewish high-end watchmaker falls in love with a Thai casino worker, whom he struggles to trust despite his declarations of passion. Sometimes taking the form of letters, vignettes or even transcriptions, Blum's stories are creative and carefully sewn together, if tough to chew on. They frequently speak to Blum's own experience as a Jewish man growing up in Miami before relocating to Los Angeles.
A graduate of the Iowa Writers Workshop, Blum creates rich characters who are hard to pin down. Yet they share a common struggle: to connect in a world where connection is fraught. For this reason, these open-ended stories deserve more than one long, thoughtful look. --Lauren Puckett, freelance writer