Parisian Lives: Samuel Beckett, Simone de Beauvoir, and Me: A Memoir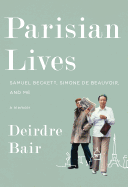 Deirdre Bair is the author of half a dozen biographies that include the 1981 National Book Award-winning Samuel Beckett and 1990's bestselling Simone de Beauvoir. It is readers' good fortune that things didn't go smoothly for Bair while writing these first two books; otherwise there would be no Parisian Lives, a fabulous hybrid Bair dubs a "bio-memoir."
In the first half, Bair details the fairly torturous seven-year process of working on her biography of Beckett. She writes of collaborating with the Nobel Prize-winning playwright: she usually felt "like a marionette whose strings he was pulling, because I never knew where I stood with him." Bair devotes the second half of Parisian Lives to the decade that she spent on Simone de Beauvoir. Although Bair found the trailblazing French feminist an overall easier subject than Beckett--"My two-word phrase for my rapport with her was 'strictly business' "--Beauvoir caused her biographer considerable trouble by dying while the book was nearing completion.
When Samuel Beckett was published, some barbed reviews reflected what Bair came to realize was many male critics' discomfort with the notion of a female writer taking on a serious literary subject. She spent almost two years recovering and vowed never again to undertake a biography. But when an editor who admired Samuel Beckett offered Bair a contract to write about anyone of her choosing....
In the diary that Bair kept at the time, she wrote of deciding to tackle Beauvoir's life, "I'm doing this one for me. I need to write this book." It turns out that she also wrote it for her lucky readers--of Simone de Beauvoir and of Parisian Lives. --Nell Beram, author and freelance writer