Long Live Latin: The Pleasures of a Useless Language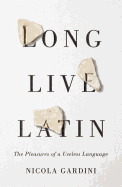 For some, the names Catullus, Virgil and Caesar conjure up visions of ancient societies, while for others they bring only memories of textbooks and grammar lessons. For novelist and Oxford language professor Nicola Gardini (Lost Words), they represent beauty in life. "Virgil moves me; Tacitus draws me toward cruelty; Lucretius sends me whirling and drifting and sinking; Cicero has me dreaming of perfection.... Seneca teaches me happiness."
It is an understatement to say that Gardini is passionate about Latin. After an unlikely introduction in middle school (Latin had been removed from the curriculum, but one teacher remained vigilant), he was hooked, and it is Gardini's hope to engage others the same way. With each chapter in Long Live Latin, he spotlights different "episodes" in the life of the language, tracing a lineage of words and authors from the creation of its alphabet to its influence on modern literature.
Gardini has written a loving tribute to Latin as well as a compelling response to those who would call the language "useless." The study, he writes, is "demanding, challenging, exhausting, and like a good hike through the mountains, restorative in and of itself." Gardini explores Latin's origins as a literary language while also sharing his own journey, making his sometimes pedantic explanations more friendly. His enthusiasm is infectious. Whether new to the study or remembering Latin lessons from years ago, interested readers will appreciate his insights, both translational and social. Through Latin, readers "step into the river of history, and there we find a deeper understanding of where we began and where we want to go." --Jennifer Oleinik, freelance writer and editor