Going All City: Struggle and Survival in L.A.'s Graffiti Subculture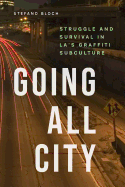 Stefano Bloch is drowning in the works of Kafka and bell hooks when a college classmate tells him, "You must love this class. It's like those books are talking about graffiti writers... about you personally."
With that, Bloch is given a link between the newfound comfort of university life and the world that shaped him. Born into poverty and frequent bouts of homelessness, the son of a troubled single mother, Bloch finds a path with meaning when he joins a gang of boys who write on walls. Equipped with stolen markers and cans of spray paint, they roam neighborhoods at night, asserting their existence with the tags they put on every surface they can find. The more territory claimed by a tag, the more famed is its writer, with the pinnacle being "All City." Bloch achieves that fame by writing "Cisco" across Los Angeles, becoming so well-known that his college classmate knows who he is without having to ask.
Going All City shows why tags are a ubiquitous urban feature, describes the boys who take pride in placing their mark where others have to see it and puts readers within the dangerous and unstable world that spawned graffiti culture. Bloch's memoir follows him out of a pool of paint and blood on a freeway into an academic career. It memorializes the friends who didn't go with him and gives a lucid and informed explanation of the world from which he walked away. --Janet Brown, author and former bookseller