The White Man's Guide to White Male Writers of the Western Canon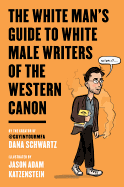 Dana Schwartz (Choose Your Own Disaster) here parlays her popular satirical Twitter account @GuyInYourMFA into a hilarious, full-blown take-down of the many "genius" darlings of Western literature.
The White Man's Guide to White Male Writers of the Western Canon is a satirical compendium designed to send up those annoying, brooding know-it-alls who haunt Brooklyn coffee shops. Schwartz succeeds in establishing the persona of said mansplainer in a thorough introduction that tells readers, among other things, how to dress like a white male writer so that your art will be taken seriously: "Spend as much money on your glasses as you can in order to make it look like you spent no money at all." The book then offers short biographical sketches of famous white male writers, from Shakespeare to Jonathan Franzen, all whose genius is explained in great sarcastic detail. The New Yorker cartoonist Jason Adam Katzenstein illustrates with funny portraits and captions, and the two collaborators also offer extras like drink recipes for favorite writers and random factoids with which to impress people at parties.
Some jabs are thinner than others, while some of the jokes undoubtedly land. "Ernest Hemingway was a man's man," Schwartz declares in false earnestness. "He was born with a full beard and a cable-knit sweater." Despite its silliness, the book is actually informative. It provides a sly feminist critique of famous writers, focusing on how men treated women in real life. For example, the entry on David Foster Wallace details the revered author's alleged abusive and frightening behavior toward writer Mary Karr. "But that's just the kind of thing genius does," Schwartz exclaims in faux dismissiveness.
Above all, The White Man's Guide to White Male Writers of the Western Canon is a pleasure to read. Schwartz offers fun and irreverent iconoclasm with some serious undertones. --Scott Neuffer, writer, poet, editor of trampset