Revenge of the Red Club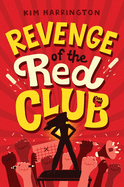 It's bad enough when Hawking Middle School's administration suddenly starts dress-coding the girls--no leggings, no spaghetti straps, etc. But do they also have to go after the Red Club? As eighth grader Riley Dunne describes the weekly after-school club: "It's a period support group, but really, it's more than that. It's kind of like a sisterhood." Riley and her club friends smell sexism; as one points out, "Between shutting down the Red Club and enforcing this ridiculous dress code, it seems like they're targeting girls."
Principal Pickford says the club is being disbanded because it doesn't have an adviser, but he also admits that there's been a complaint against the group. Riley, the school newspaper's investigative reporter, decides to use her journalistic chops to unmask the "secret complainer." Meanwhile, the club won't go down without a fight; this will involve, among other things, revenge by maxi pad.
In journalistic terms, Revenge of the Red Club is a hard-hitting story with a human-interest angle. Thanks to Riley's breezy narration, the book's chatter about menstruation is unlikely to put off even readers who, like Riley's mom, are uncomfortable discussing "women's trouble." Kim Harrington, who has a clutch of YA and kids' titles to her name, conjures 1960s political activism through the Red Club's consciousness-raising-style meetings and civil disobedience, but her book also recalls 1980s teen movies in which students take a stand. Like the kids in The Breakfast Club, Revenge of the Red Club's rebels will have its audience's full support. --Nell Beram, freelance writer and YA author