Pity the Reader: On Writing with Style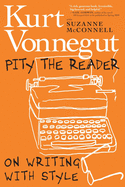 Pity the Reader: On Writing with Style is less is a book about the writing craft than it is an homage to Kurt Vonnegut--as writer, teacher and human being.
The publisher describes the book as written by Vonnegut and Suzanne McConnell, who studied with Vonnegut at the Iowa Writer's Workshop and taught writing for many years at Hunter College. And in fact, Vonnegut did write a large portion of the book, though not directly for Pity the Reader. McConnell shares nuts-and-bolts writing advice and larger thoughts on the creative process, pulled from Vonnegut's novels as well as from his lectures and essays on writing. She sets that advice within the context of anecdotes from his life, many of them drawn from her own long friendship with him. For example, McConnell shares Vonnegut's advice on the tricky question of an author's voice: "Sound like yourself." She then reinforces it, first with Vonnegut's self-deprecating description of his own native voice and then with an anecdote about a time when he tried to abandon that voice in favor of something more urbane. (He was told, "Go for Will Rogers, not for Cary Grant.") It's a powerful lesson on a subject many writers struggle with, but also tells us a great deal about Vonnegut himself.
In the end, Pity the Reader is an extended meditation on Vonnegut's dictum "The primary benefit of practicing any art form... is that it enables one's soul to grow," using his own life as the case study. --Pamela Toler, blogging at History in the Margins