From Chernobyl with Love: Reporting from the Ruins of the Soviet Union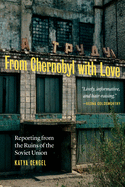 Journalist Katya Cengel (Exiled, Bluegrass Baseball) details her experiences living and working in post-Soviet Eastern Europe following the fall of the Berlin Wall and amid the lingering consequences from the Chernobyl nuclear disaster.
In 1998, Eastern Europe was undergoing rebirth and so, too, was enthusiastic and adventurous Katya Cengel. The 22-year-old California native and recent college graduate took a job in Riga, Latvia. As an aspiring journalist, she hoped her work at the Baltic Times would launch her career. Instead, Cengel faced culture shock--and loneliness. It wasn't easy to acclimate to environs where basics like running water, electricity and heat were often sparse. Cengel shares stories of early writing assignments and efforts to prove her worth, along with the challenges she faced as an American in dating and forming friendships. Corruption was widespread during this time of economic, social and political upheaval, and Cengel learned the hidden horrors of the "Soviet ideal of equality" when it came to ideas about women in the workforce and home. Cengel eventually went to work at the Kyiv Post in Ukraine, where her desire to visit--and write about--the Chernobyl nuclear power plant disaster changed her life in harrowing, toxic ways.
Courage, resilience and hard work ultimately bolstered Cengel's unrelenting desire to succeed. The forthright nature of her layered, illuminating perspective details her daring adventures and devastating heartbreaks at a formative time. From Chernobyl with Love allows readers a fascinating glimpse into Cengel's life and work as history unraveled. --Kathleen Gerard, blogger at Reading Between the Lines