Feed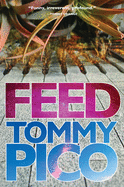 What characterizes Tommy Pico's fourth installment of his Teebs tetralogy is his sheer love of language. In Feed, Pico (Junk) lets go of all poetic conventions and expectations and allows his words to dip and soar on strange and beautiful trajectories.
Feed picks up where Junk left off. The poet--a queer member of the Kumeyaay nation--finds himself in an unpredictable New York City spring. He's on book tour, he's dating, eating, reading, writing, traveling. The spring becomes a metaphor for the wild vicissitudes of his life. "Springtime is so insecure, right?" he asks. The temperature fluctuations, the promise of summer, the vestiges of winter and the changing landscape all come to represent "the possibilities of jagged spring," mirroring the possibilities in his own life.
Whereas Junk is more linear in portraiture, Feed is discursive, ruminative and tangential. Pico employs a postmodern mash-up technique, mixing his thoughts with terrifying news headlines, missives to the reader, etymological explorations and, staying true to the spirit of Teebs, a list and discussion of pop songs. Teebs is Pico's poetic persona, an alter-ego, outrageous, funny and fearless in his own way. It's here that Pico ponders the performative nature of the persona, locating something within that is still shy and unsure about success. He dissects the difference between aloneness and loneliness, how he moves through the world as an alienated being, his psyche layered in cunning ways to survive.
How Pico pulls off this dazzling fusion of culture is his magic. Feed is engrossing, oddly enlightening and, above all, fun to read. --Scott Neuffer, writer, poet, editor of trampset