Cosy: The British Art of Comfort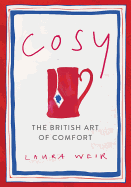 In Cosy: The British Art of Comfort, Laura Weir takes readers on a charming journey to explore the concept of coziness and how to cultivate it as a counterbalance to the hard edges of modern life. While the term cosy, as Weir experiences it, is essentially an English construct, it is also one that can be universally enjoyed and easily translates across cultures.
Seeking coziness is akin to seeking reassurance and security in a disorganized, overwhelming world. Some of the most basic pleasures, like a good nap, can be the most soothing, so there's nothing elitist or extravagant about leading a cosy life. It's accessible to anyone who wants to indulge and often it's found when people are focused on pleasing themselves instead of trying to impress others.
Written in a fun, conversational tone with lovely illustrations, Cosy is an appreciation of simple, predictable pleasures like a warm home, a favorite couch, a soft blanket and someone to snuggle with. It means nurturing in oneself a laid-back approach and a contemplative demeanor. After all, it's hard to imagine being cosy while feeling stressed or rushed.
Weir has a dynamic media presence in London; she is a journalist and editor familiar with the noise and bustle of city life. A favorite childhood memory inspired her to seek coziness and prioritize it in her adult life. Weir's references to British shops, television programs and countryside destinations provide an intriguing glimpse into the world of a Londoner seeking cosy contentment and inspires readers to seek similar comforts within their own environments. --Shahina Piyarali, writer and reviewer